In memory of our dearly beloved, tyson tan supasatit...

September 4, 2007; Seattle

Note to people searching for "Tyson Supasatit" online: I created this personal Web site nearly a decade ago. For more updated information and news, trying searching LinkedIn or Facebook, or email me at deuteronomy6v5@gmail.com. God bless!

May 23, 2005; Washington, D.C.

Peishih, Mi, Cora, and I are getting ready for our trip back to Seattle next month. Saying goodbye to all our friends here, and packing. We're going to be driving cross-country and stopping at Peishih's friends', my grandparents', and Yellowstone National Park.

February 2, 2005; Washington, D.C.

Happy Chinese New Year! "Gong xi fai cai! Hong bao na lai!" This year I have to give red packets to those single folks younger than me, since I'm married. Hellos to everybody at R.E.M. church, where Amy, Peishih, and I are attending now.

December 9, 2004; Washington, D.C.

So much has happened in the last year-and-a-half. Probably the most important news--Peishih is pregnant. That puts everything else in perspective. Due date is mid-March, and it looks like a girl from the ultrasound ... But, you never know until the baby comes out ... ;-P

May 12, 2003; Washington, D.C.

OK, we're officially hitched. It's been over a month and things are going pretty well so far! Er ... not that I expected anything else ... heh heh heh ...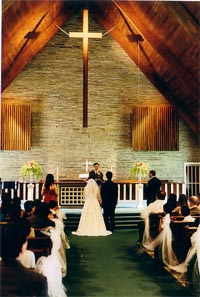 January 7, 2003; Washington, D.C.

I am going to be 25 years-old this month. Bleh. Has everyone seen the new Hope of Americas Newsletter? It's my baby. Check it out here.

Also I realized people might visit this page and not scroll down to see the links I have at the bottom. Please scroll down to visit other sections of this Web site. Soon, I hope to have pictures of my hamster on this site, as well as pictures of tyson-related people and places since the university.

June 11, 2002; Washington, D.C.

On June 11th, at about 12am midnight, Peishih agreed to marry me. I decided that, regardless of marriage, my life has been completely changed by Peishih, and that marrying her would not make her influence on my life any greater. I pray that God will enable us to fulfill the plans He has for our marriage--and that we will learn to walk with Him together, in step.

August 21st, 2002; Washington, D.C.

Thank God He has provided so many blessings for church in Washington, D.C. We are preparing to move our Sunday services to the auditorium in nearby Bethesda Elementary and are preparing to start a new professionals/students caregroup in Arlington! Also God has blessed our members with a condo, a full scholarship, and a marriage!

I have a new email address: deuteronomy6v5@yahoo.com

Love in Christ,

ts

mail me! :-)